Iphone spy download mac
Hear all audio and voice memos. Even if they delete media files, you will still have a copy on your web account. Location linked the map inside your web account. You can display a path of travel between certain time periods. You can easily track the phone from your web account. See everything that's being typed. Discover search terms, notes, passwords and more. Captured keystrokes automatically upload to your web account to view and download. Take photos or videos using the camera and view it later from your web account.
What Is FlexiSPY's iPhone Monitoring Software?
Spy Camera for iPhone is a powerful mobile surveillance feature. Competitors do not have this feature! Remotely read all incoming and outgoing SMS. Spy on text messages, even those that may have been deleted. See details such as contact names and numbers associated with SMS messages including date and time.
mobile phone video surveillance!
What Can FlexiSPY's iPhone Spy Software Do?.
What is WebWatcher.
how can track a cell phone location!
screenshots.
best mobile spy software reviews.
iPhone Tracker - Undetectable and Invisible iPhone Spy App - SPYERA™.
Know exactly what emails being sent from their iPhone. If the e-mail address is in the phones address book, the contact name will also be available. It helps you to keep your loved ones, your business, and your personal information safe. Our software provides the best monitoring solution for employers, parents, and even personal users who understand the importance of protecting their businesses, personal information and loved ones.
Cell Phone Spy Software
Installing iPhone monitoring app is easy and takes only a few minutes. You need to download the monitoring software to the mobile phone that you want to monitor. You will need to jailbreak your iPhone to get the most out of all of the advanced features. This is required for all iOS devices. You need to have the target device in your hand. Ensure you have an Internet connection. You will receive a welcome email which contains your download URL, your web account login credentials and user manual.
We provide the user manual. The user manual is step by step and each step has the screenshot. Once installed, it will run in the background without any evidence.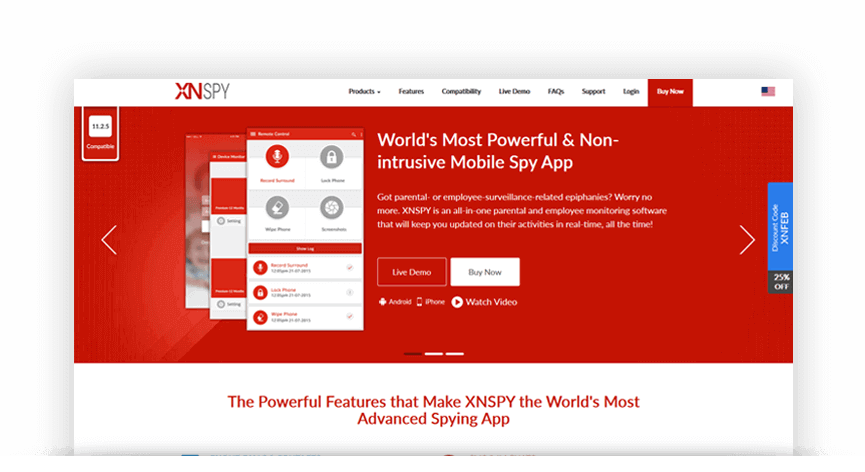 The data is uploaded to your online web account. You can view usage and activity reports from your web account. Simply log in to your Web Control Panel and start spying text messages, call logs, GPS location and any other activities taking place on the target iPhone. Get quick information about the installation steps and how to use the program to monitor a smartphone or tablet. Interact with a working example of the online control panel to get a feel for how easy it is to monitor your smartphone. You can spy on target phone without purchase any thing.
You as a parent also require phone spy software to monitor and control child activity on his cell phone. If you find him doing this activity then lock the social media app. Catch him cheat you through his mobile using FreePhoneSpy App. Become a true spy and do spying activities using the mobile spy app. Monitor employee through mobile spy app and know about their activity in the office. Know whether the employee was working or chatting on the cell phone. Track the location of the lost cell phone and then easily find it. Then use the spying software and through GPS tracker get back the stolen mobile.
It tracks the position of the device and sends the immediate records to the user. The app fetches the current and previous location of user along with the time and date stamp. It let the user track the messages send and received by the user. Similar details such as sender's number and name, time and message content are accessible to the FreePhoneSpy user.
iPhone Tracker is undetectable.;
Best Spy Apps for Android & iPhone.
Contact Form.

It fetches the call records such as when the call was made or received, the caller's number and name, time and other details. All the photos, videos, and all the multimedia files will be available to you. Past conversation can also be known to known to you easily. You can also maintain an eye on the instant messages from different platforms like Snapchat , Facebook , Skype, Viber and many others like this. Thus you will be able to observe the activities of the target user on the social media also.

The web search history is successfully scanned, and the different websites visited by the target user are availed to you anytime you want. In this article, I review the best spy apps of Unfortunately, most of them are such a pain to install and use that they are basically worthless. In an effort to keep tabs on what our kids are up to on their smartphones, I've installed and tested more spying apps than I care to remember. Through all this testing, I discovered they all have the same basic functionality. Here are the top 5 best spy apps for iPhone and Android in Everything you need to know about each spy app is in the reviews listed below.

In my opinion, mSpy is the best spy app on the market. You can read why it is at the top of this list in my full mSpy review.

With a dedicated support team that is truly unique in this industry, the app works on both iOS and Android. It is also undetectable once installed. The mobile spy app comes in both a jailbreak and non-jailbreak version, in which monitoring capabilities are more limited. Should you opt for the advanced version of the application, the team at mSpy will help you jailbreak the device and get the app properly installed and configured. While the installation is fairly straightforward, it's not unusual for those who aren't comfortable with mobile spy software to run into issues.

Using the chat on their website, we were able to get answers to all of our questions quickly. Of all the brands we tested, mSpy is the best. Regardless of whether your target uses an Android or Apple device, they have you covered. It also has some extras you won't find anywhere else.

The app is, far and away, the best cell phone spyware. It has both a non-jailbreak and jailbreak version, simple installation, intuitive control panel, and very competitive pricing. While the app's features are more limited without performing a jailbreak, the full version of the app has everything you could possibly want, including monitoring GPS location, SMS text messages, and all the popular social chat apps.

While it doesn't offer some of the advanced features of my 2nd choice call intercept or call recording , this spyware for cell phones offers the most value overall. FlexiSPY is the best spy app for iPhone. It has all the features of mSpy and a few incredibly powerful features not offered by any other mobile phone spy software on this list. You can read more about the app in my full FlexiSPY review. If you're comfortable with technology and are willing to spend a bit more, FlexiSPY is the best spyware for iPhone and a great Android spy app as well.

This powerful cell phone monitoring software will allow you to keep track of just about everything that happens on the target phone remotely. Where FlexiSPY really shines is in its advanced set of features. Highster Mobile is the best phone tracker app that can be installed without permission. It is geared toward remotely monitoring the phones of your children or your employees. Of course, how you use it is totally up to you. The app has many of the same mobile spy features as the best tracking apps for iPhone and can spy on Android as well.

Because Highster Mobile is easy to install and configure, it is a good choice for those who aren't as technically savvy. The interface and online dashboard capabilities are very similar to the other products we're covering, but this app doesn't have some of their advanced capabilities. You can read more about the app in our Highster Mobile review article.

Both jailbreak and non-jailbreak versions offered. Advanced features such as Facebook Messenger and Instagram monitoring require a jailbreak. Highster Mobile is one of the best cell phone tracking apps on the market.

Classroom Monitoring Software Downloads

This software doesn't have as many advanced Android spy features, but it still has some of the most important Android capabilities at a much lower price. If you are on a budget, this is a great choice. In addition, Highster Mobile also offers a one-time payment instead of monthly plans. Yes, it is missing some advanced features like recording calls, ambient recording, and turning on the camera, but it is still a robust package to spy on someone, and it is worth considering. Basic support is available, but it is not as easy or as helpful as FlexiSPY.

You will be required to submit questions on their website, which are answered in a queue format. Like most of the options we've listed so far, it gives you the ability to read someone's text messages without their phone, track a phone without them knowing, and spy on a cell phone without installing software on it. In addition, it shows you call logs, spies on social media apps Facebook, Twitter, Whatsapp , photos and videos, GPS location, and has some impressive extras.

The software is specifically designed for parents and employers to track everything happening on the target device. The dashboard will let you monitor multiple devices and allow you to switch from one to the other quickly. You'll want to verify that the device you're looking to monitor is compatible with the app. This can be done quickly using the compatibility wizard on their website.

Once verified, installation and setup of this tracker app were both quick and easy. XNSPY has many of the same functions offered by other spy apps we've covered, but it does have a few unique features that make it worth your consideration. This feature captures all keystrokes, even those that have been deleted.